New Layher Flexbeam Brings Clear Advantage to Forth Road Bridge Maintenance
The most recent innovation from system scaffolding, access and weather protection specialist, Layher Ltd. is now central to major maintenance work being undertaken on one of Scotland's most iconic structures.  The Layher FlexBeam is helping to create an extensive work area underneath the road deck of the Forth Road Bridge which, at more than 2.5 km in length, has connected North and South Queensferry since 1964.  Significantly, it is bringing clear advantages in terms of efficiency and time savings to the project.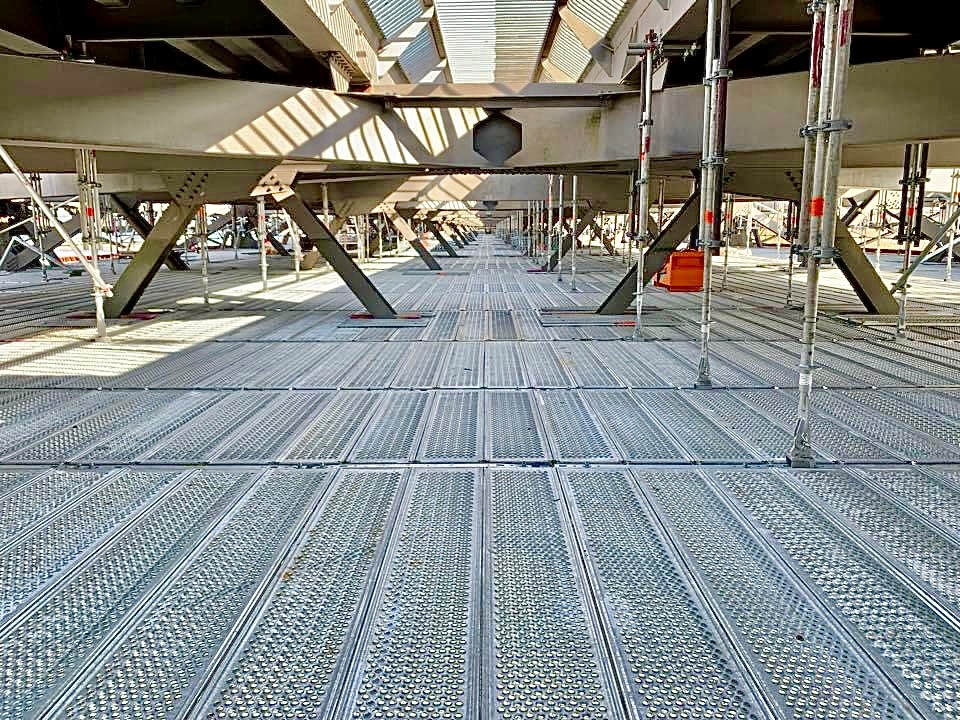 Ross Brown is Director of I-Scaff Access Solutions Ltd. who have installed the Layher system for main contractor Millar Callaghan Engineering Services Ltd. – working for BEAR Scotland, appointed principal contractor by bridge owners, Transport Scotland.  He highlights key elements of the access project. 
"The underside of the bridge deck features a series of parallel walkways, totalling some 10 km in length, which were installed in the 1980's to provide Suspended Span Underdeck Access (SSUDA) to help facilitate engineering, maintenance and inspection activities," he says.  "These gantries are now undergoing their own programme of maintenance which has called for a full width suspended scaffold to be installed as a means of access.  We have been brought in to meet this need on the sixth phase – some 120 metres in length across the full 36 metres width of the bridge – and our use of the Layher FlexBeam has brought major advantages to the work." 
Importantly, the Layher system has required far less equipment than had been experienced in earlier phases where tube and fitting scaffold was used.  This has created significantly fewer obstructions enabling Millar Callaghan Engineering Services to undertake their work most efficiently.   
"The walkways are being removed for offsite refurbishment before being returned to and refitted on the bridge to continue their SSUDA role for, it is anticipated, a further 25 years," continues Ross Brown.  "With some sections measuring up to 9 metres in length, the handling equipment is gaining significantly from the relatively unobstructed platform."  He says that the standards from which the temporary decking is suspended are located at an average of 4.5 metre intervals rather than the 1.6 metres typically required by tube and fitting.  "Overall, we have been able to install 80 square metres of suspended decking per day on average – twice as fast as was originally the case."
The Layher installation features standards linked in clusters of three using wedge-head swivel couplers which, in turn, are clamped to, and suspended from, the bridge's own steelwork using girder couplers.  These standards then drop down to connect directly to the Layher FlexBeams installed at up to 5.5 metre intervals, and onto which Layher's Allround Lightweight steel decking is then located.  A choice of decking lengths has enabled I-Scaff to accommodate the diagonal steel sections that form part of the bridge structure, while longitudinal bracing is only required every fourth bay.  Guardrails and edge protection have also been installed, where appropriate, while dropped object netting has been located under the full working area by another Millar Callaghan Engineering Services subcontractor to protect the waterway below.    
"The fact that the design, which has been undertaken by Kenneth Redman, Technical Manager at our Livingston depot in Scotland, enables the scaffold to be suspended from the bridge's own steel structure is extremely beneficial," adds Sean Pike, Layher's UK Managing Director.  He points out that by using the Layher Scaffold Information Modelling (SIM®) software, a clear visual demonstration of the advantages of the FlexBeam system was available to the client in VR format, directly from the company's LayPLAN CAD design model.
"The lightweight material has also helped with manual handling procedures, while the greatly reduced number of components has not only played a key role in optimising installation efficiency, it has also made a significant contribution to minimising transport and storage needs," continues Sean Pike.  As a result, Ross Brown and his team have made full use of the system to deliver the saving in installation time that was an important project target, enabling Millar Callaghan Engineering Services to undertake the gantry removal, repair and reinstallation process more quickly than would otherwise have been possible.
To date, the largest suspended scaffold installed in the UK to use Layher's FlexBeam, the Forth Road Bridge also represents I-Scaff's first application of the equipment, with the contractor undertaking familiarisation training nearby at the Livingston facility.  "We are delighted to be able to demonstrate to our customer that the benefits and savings on paper were recreated, and sometimes exceeded, when brought to life," adds Ross Brown.  "The fact that we have been able to show clear gains by comparing our approach to that used on the previous five phases to date has been extremely beneficial, and points us towards more extensive use of the Layher FlexBeam in the future."  
With traffic on the road deck continuing uninterrupted, the Forth Road Bridge project has had to meet challenging needs.  If efficiency and safety can be defined as key project features, then the use of the Layher FlexBeam at the heart of this sixth phase of the work, means innovation can justifiably be added to the list.