Layher Temporary Bridging Helps Passenger Movement During Abergavenny Station Refurbishment
A major temporary pedestrian footbridge installation from Layher Ltd. is now playing a central role during the refurbishment work being undertaken at Abergavenny Station in Wales.  The project, which represents the first use of the Layher system by Cardiff-based contractor Atlantic Scaffold, provides passenger access between platforms and features a design that has fulfilled a number of key objectives.  Atlantic Scaffold Operations Director, James Davies explains – 
"The temporary pedestrian bridge facility replaces the existing Grade II-listed structure at the station which is undergoing extensive repairs to its stairs and bridge deck as part of a wider development programme at the site," he says.  "Clearly it is vital that passengers can still gain access between platforms which pointed us towards the use of the Layher system with its light weight, ease of handling and minimal number of components, all key operational and safety benefits.  Significantly, the station's location has seen the bridge installed to a greater height than would normally be the case with a rail structure of this type."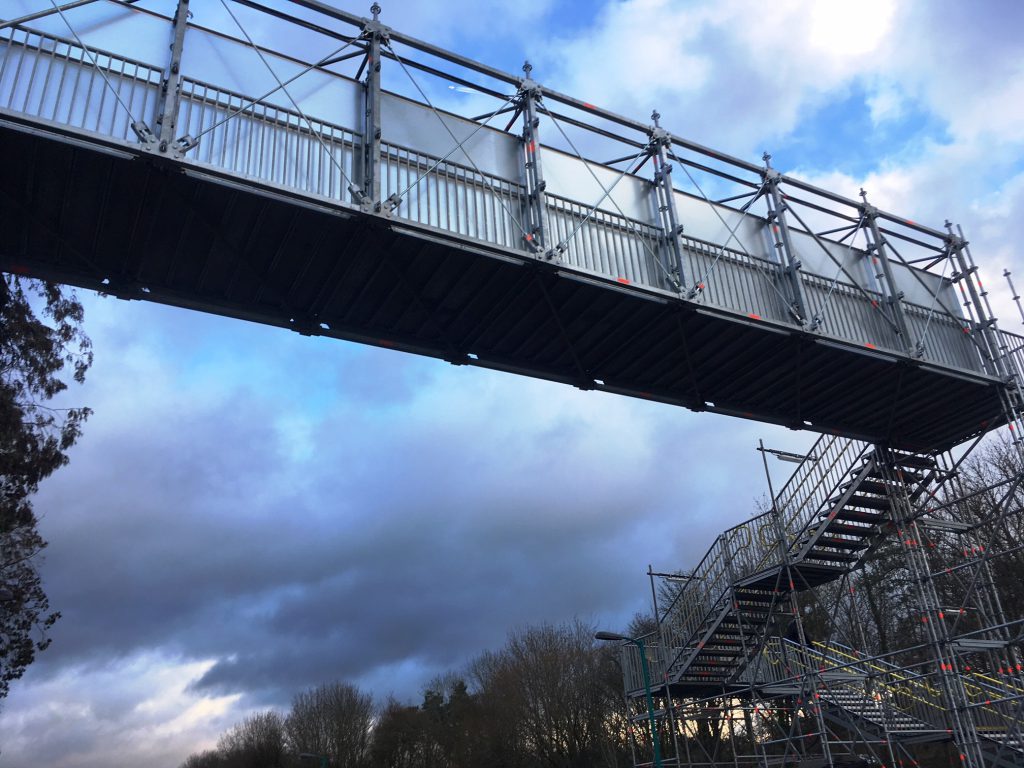 James Davies explains that the temporary bridge deck has been positioned some eight metres above the rails.  "This is far more than is required for trains to pass safely underneath but meets the need for drivers to maintain a clear view of the signalling system at Abergavenny," he continues.  "The contours are such that the maintenance of an uninterrupted, clear line of sight needs to be specifically addressed, with the design of the Layher temporary bridging system proving to be the ideal means of achieving this important objective."
A 16 metre span now connects the two Layher stair systems each of which features five staircases and a series of landings to provide safe access across the rail lines between the two platforms – at a station that acts as vital main line hub between Cardiff and the Midlands.
Non-slip GRP surfaces and temporary lighting are used throughout while the bridge deck itself is flanked by the company's Protect screening panels.  "This meets an important safety requirement with the track passing directly below," adds James Davies.  
Importantly, Atlantic Scaffold – who were appointed by main contractor, Centregreat Rail working for Network Rail – were able to keep possession times to a minimum during the installation of the temporary bridge.  "We fully assembled the bridge deck at our Cardiff premises and then transported it to site for installation during just one overnight possession," continues James Davies.  He explains that the two stair systems had already been erected – to half height during daytime periods with the upper lifts added during limited overnight closures – with the overall installation taking no more than two weeks.   
"This is an excellent example of our temporary bridging system bringing clear benefits to an important rail application and we are delighted to have been able to contribute to the project," says Sean Pike, Layher's UK Managing Director.  "It is also important to note that this is Atlantic Scaffold's first use of our systems and we are very happy that we are able to add an important name in South Wales to the list of customers who are now benefitting from our designs," he concludes.