Layher scaffolding helps to keep history alive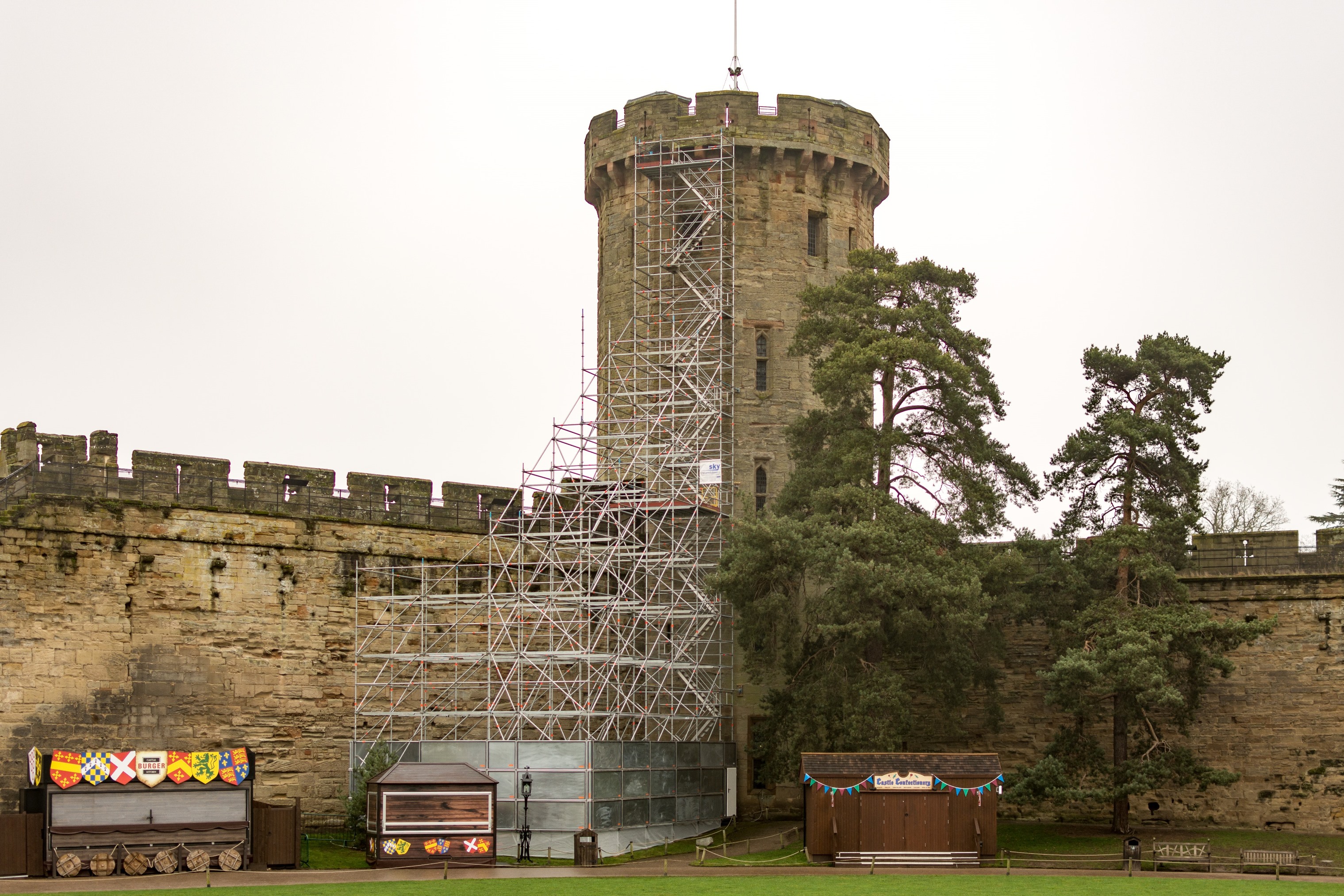 The range of structures, new and old, that have benefitted from Layher scaffold systems is extensive – but few can match a 1,000 year-old location in the heart of England.  Warwick Castle, which dates back to the 11th century, undergoes an ongoing schedule of repair and maintenance with the programme currently including stonework restoration of Guy's Tower, the Castle's largest, which dates back to 1526.  By contrast, the modern Layher Allround system has proven ideal in this historic environment, enabling optimum access for the specialist stonemasons to be achieved.  Steven Pickard, Project Manager at Sky Scaffolding Midlands Ltd, who have undertaken the installation of the Layher system for Warwick Castle managers, Merlin Entertainment Ltd, explains – 
"Understandably, a structure such as this presents major challenges, not least severe limitations on tying the scaffold into the stonework," he says.  "Opting for the Layher system meant we were able to utilise a lightweight, wide bay design which not only meant the need for extensive ties could be avoided – only non-intrusive ties fixed into the mortar were utilised where necessary – but which also allowed a buttress design to be used."
The Layher scaffold comprised 13 lifts to raise the main working platform some 25 metres – almost to the full height of the tower.  It is at the top of the structure that the main refurbishment activity has been focused but, once accessed, the stonemasons were also able to inspect other areas that needed attention – extending the project, as a result, to complete the additional work. 
The Layher Allround design was erected quickly and safely, while also optimising security to the working area.  The company's Protect panel system was connected to the first three metres of the scaffold, with access limited to a single, lockable door.  "This was an important safety factor given the proximity of the work area to visitors in the Castle grounds," comments Andy Gee, Area Sales Manager, Central UK, at Layher.  "Additionally, a loading platform was built to full height with a landing platform every eight metres inside the scaffold for materials to be hoisted and stored, with our Stairtower system also rising to the full height of the scaffold."
The buttress design, which comprised a stepped back configuration, itself created a visuallyimpressive aspect to the scaffold installation – perhaps fitting in such a dramatic location, which will continue to impress visitors for many years thanks to the management's commitment to ongoing restoration, and the use of high quality access systems.