Layher scaffolding capability drives ahead on new bypass construction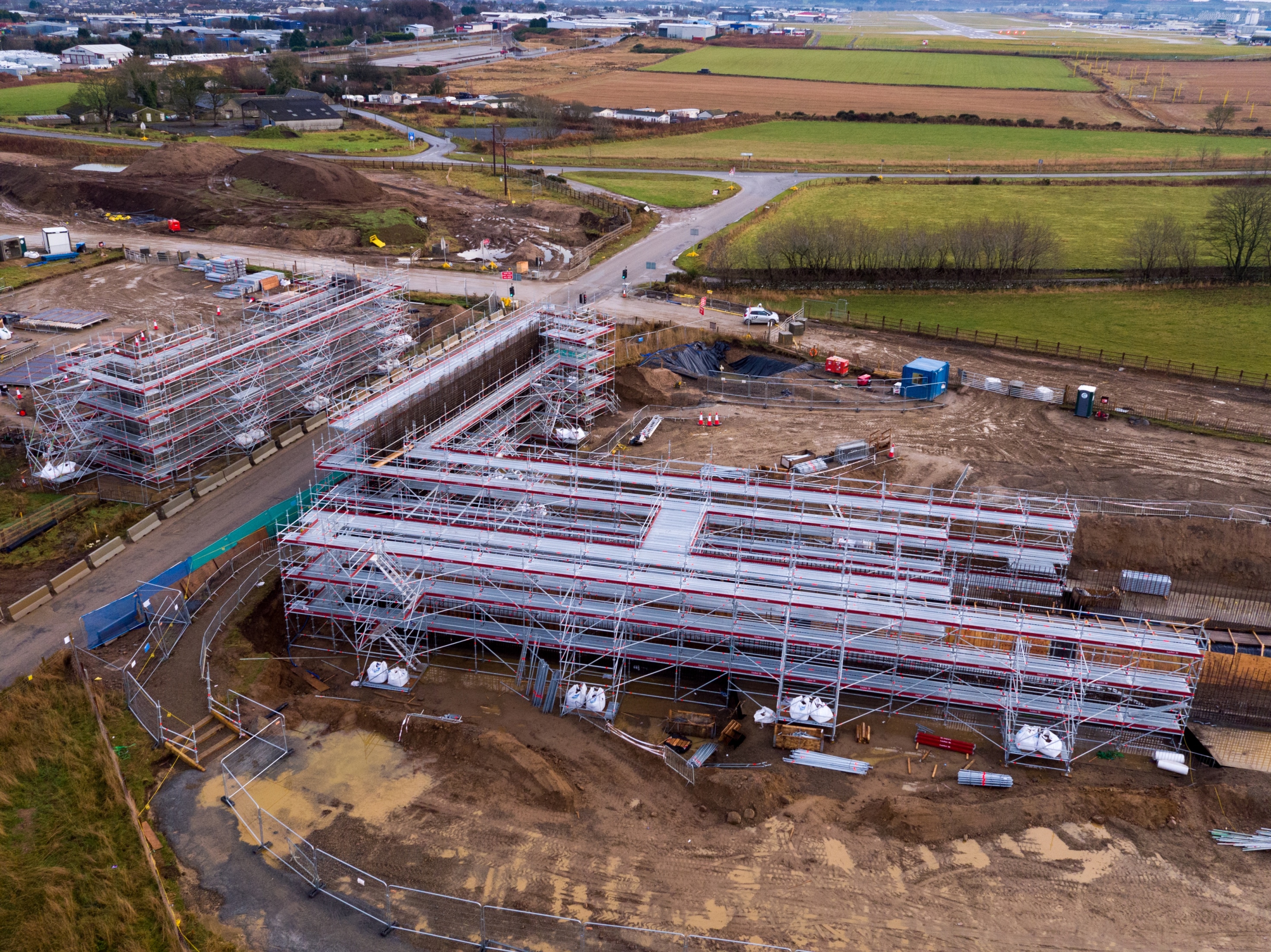 The Aberdeen Western Peripheral Route/Balmedie-Tipperty (AWPR/B-T) project is a major transport infrastructure development which will significantly improve travel in and around the north east of Scotland.
Linking Stonehaven in the south to Tipperty in the north, the £745 million project includes the construction of 58km of dual carriageway, built in four sections, and will feature 75 principal structures, including two river crossings, one railway bridge and over 70 culverts.
It is in the context of the structures' construction that the project is making the most of the recently introduced Allround Lightweight scaffolding system from modular scaffolding specialist Layher Ltd.
"A project of this size clearly has key scheduling objectives that need to be met," says Sean Pike, MD of Layher UK, whose involvement was orchestrated by the company's Livingston facility.  "The speed and adaptability of the scaffold installations are, therefore, critical, particularly as each bridge structure is designed to meet individual functional and location considerations, so the system chosen is clearly important."  He believes that the decision by AWPR Construction Joint Venture, the New Works Contractor, therefore reflects key characteristics of the Allround system design.
"As with all Layher scaffold and weather protection systems, Allround Lightweight benefits from ease of handling and wide bay configuration as well as minimum component requirements resulting from the built-in 'rosette' connection system," continues Sean Pike.  "This also produces clear gains in terms of transportation to, and storage at, site while the absence of separate fittings represents not only an obvious health and safety advantage, but also minimises the risk of materials being accidentally left at a site after removal.  In a rural location – as is generally the case here over much of the alignment – this is of particular significance," he adds.  
Importantly, the Layher Allround system also requires minimal cross-bracing, enabling clear walkways to be utilised which aids the movement of both workforce and materials around each structure.  Additionally, the versatility and loading capability of the modular system meets key considerations at the Aberdeen site head on, with consequent gains in terms of safety and project scheduling.   
Kenneth Redman, Technical Manager, Scotland and Ireland at Layher's office in Scotland, said the company's work on the project included several significant bridge 'focus point crossings', which brought some intriguing challenges. 
"One particular site has called for two separate, yet complementary, bridges to be installed almost at a right angle to each other," he explains.  "While one is designed to raise the new dual carriageway over an existing road below, the other is to carry the new road over major utility services.  The speed of erection and adaptability of Allround Lightweight has been clearly demonstrated here and has avoided possible design complications, additional manpower and potential delays that could have arisen from the use of a tube and fitting alternative."
A total of four fully boarded scaffold lifts have been installed here to allow for construction of the bridge support substructure, with Layher stairtowers also used at key points to optimise speed of access.  Alongside, AWPR Construction Joint Venture created a protective bund running the length of the services over which the dual carriageway will also pass, with reinforced concrete abutments then installed each side of the services.  In turn, this has seen two separate Layher scaffolding installations on either side of the services with access walkways between the two at key points.
"Critically, the scaffold installation must be able to keep pace with the work as it progresses," continues Kenneth Redman, "which is a direct reflection of its simplicity of installation, high level of structural integrity and the wide bay layout that has helped keep material volumes to a minimum."  
When complete, the AWPR/B-T project will help to reduce congestion, cut journey times, improve safety and lower pollution in Aberdeen City Centre. It will also enable local authorities to develop public transport solutions. The deployment of advanced construction techniques impacts directly on both scheduling and budgetary control – and the use of Layher's Allround Lightweight scaffolding system is a clear demonstration of these objectives in operation.