Layher scaffolding brings key benefits to residential refurbishment in Manchester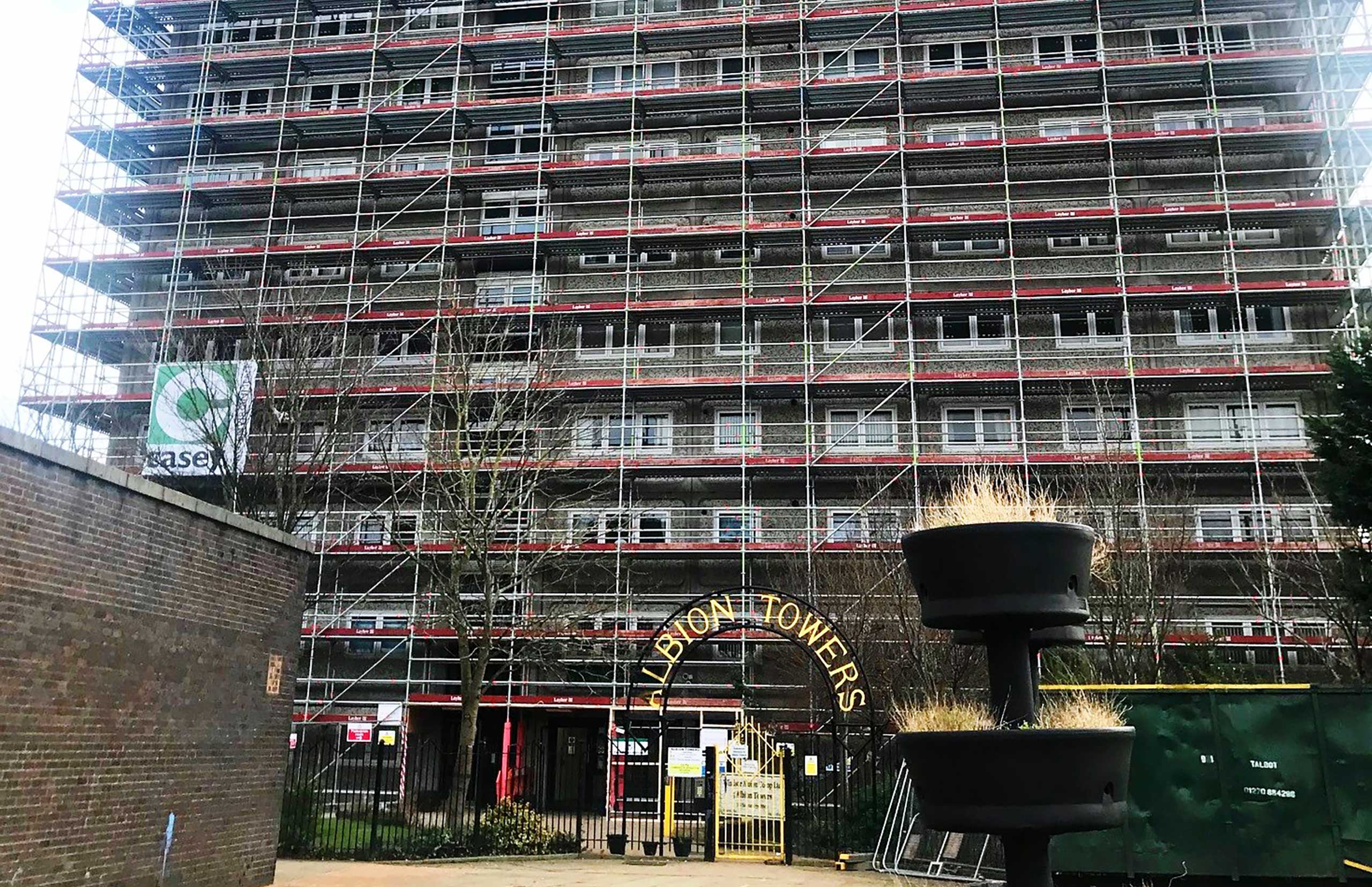 The benefits arising from the use of Layher Ltd.'s scaffolding during the refurbishment of residential accommodation are being clearly demonstrated in Salford, Manchester, where contractor Silver Star Services has installed a full height scaffold on Albion Towers.  The project, for Salix Homes, has required the scaffolding to reflect specific characteristics of the site while contributing to the smooth running of the overall refurbishment operations being undertaken by Casey Construction.
"The work centres on repairs to the external fabric and the replacement of the windows on all four faces of the building at the same time," says Tony Clarkin, Managing Director of Silver Star Services.  "This has called for a scaffold of some 22 two-metre lifts to be installed around the entire structure to enable the specialist teams to gain full access to every part of the building whenever needed."
The installation uses the Layher Allround scaffolding design with steel decking throughout – importantly, with no need for cross–bracing at any point, the unhindered movement of both men and materials is achieved.  Hop-up brackets are also featured extensively while the internal faces of each lift also gain from additional toe-boards installed to provide specific protection adjacent to recesses that area feature of the building's design. 
"The wide bay configuration of Layher Allround helps to provide clear access to the building fabric while also optimising the positioning and movement of large components such as window frames," continues Tony Clarkin.  "A passenger and goods lift and a Layher staircase, rising to some 42 metres, both provide continuous access to every level of the scaffold which is tied in to the building at key points and also provides a support for debris netting."
Vitally, the speed with which Layher Allround can be erected helps the project to meet specific time-frame considerations.  "We employed just six men to install the full scaffold on all four faces over a six-week period, which we estimate is approximately half the time that would have been needed with a conventional tube and fitting alternative," adds Tony Clarkin.
"The comparison is even more significant given the fact that the block is remaining occupied throughout the refurbishment process," adds Sean Pike, Layher's UK Managing Director.  "The noise disruption, time-frame and potential loss of daylight could all have been significant factors for the residents if tube and fittings had been used."
The design of Layher Allround, which is centred on a series of standard components with a versatile, in-built rosette connection system that contributes directly to optimising safety, has also helped Silver Star Servicesto enhance the appearance of the installation.  With the project scheduled for 36 weeks, this is of particular importance in a residential location. 
"Our widespread use of Layher equipment brings advantages, such as those seen at Albion Towers, to every project," concludes Tony Clarkin, "which, coupled with the design and support input from the company, helps us to maximise the quality and safety of our work each time.  The Albion Towers installation in Salford is a prime example of these factors in practice."