Layher scaffolding and event systems (literally) take centre stage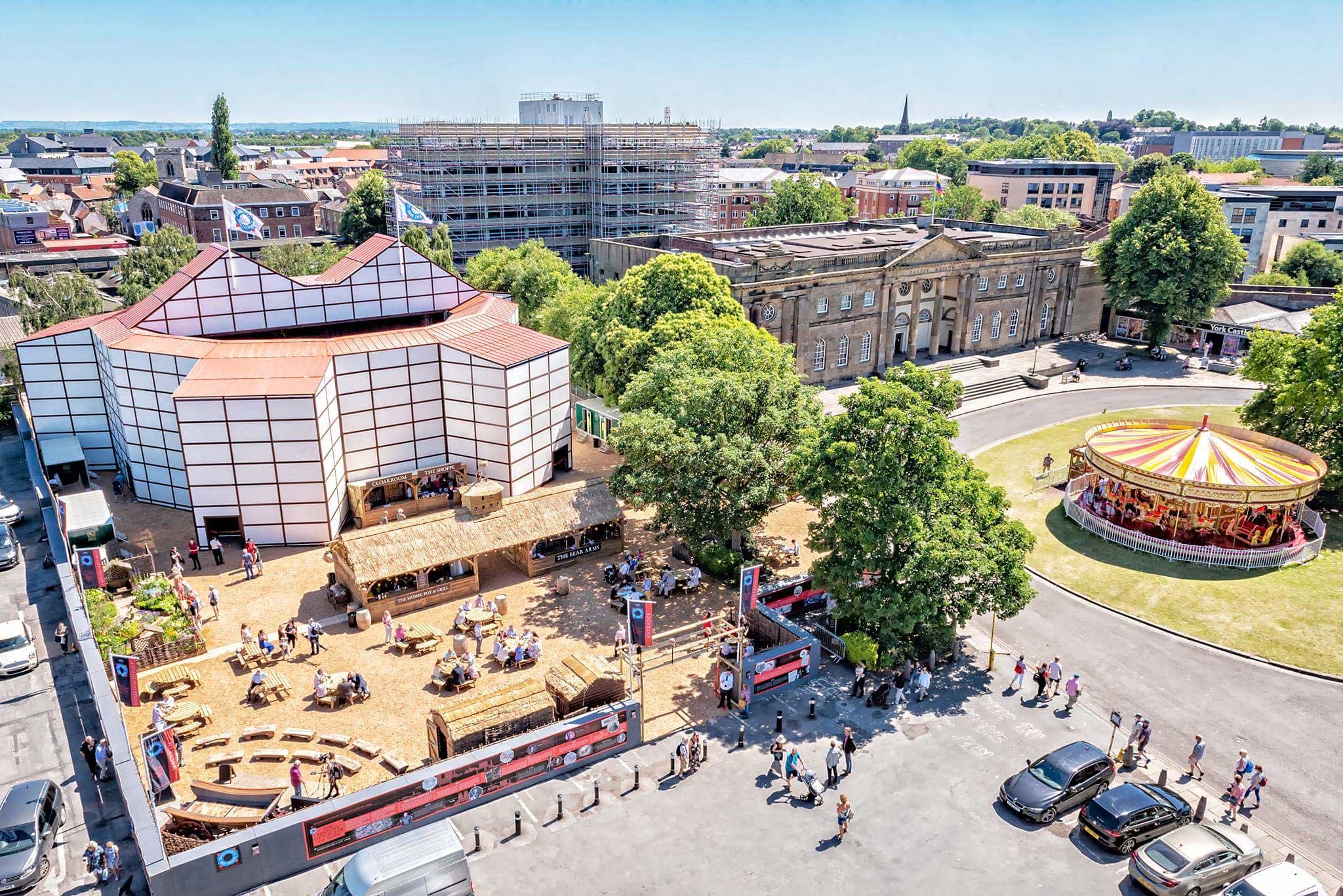 The use of Layher Limited's scaffolding, access and event equipment for a specialist project in York undertaken by Acorn Events Structures Ltd. is, in every sense, dramatic. Award-winners Acorn have designed and installed a faithful recreation of Shakespeare's celebrated Rose Theatre for Lunchbox Productions who are running a series of theatrical events throughout the summer and autumn at the site.
"The project is a genuine 'one-off' and huge credit is due to Acorn Managing Director, Andy Nutter and his team," says Sean Pike, Layher's UK Managing Director. "Their use of a wide range of our scaffolding and event products pays testimony to both their ability and creativity and the versatility of our equipment, and we are delighted to have played a key role in the work."
The remarkable structure reflects both the design and functional elements of the original 'London Rose Playhouse' that dates from 1587. The 13-sided design can accommodate a full width two-level stage together with an audience numbering 600 on three covered tiers, with a further 350 'groundlings' underneath an open roof.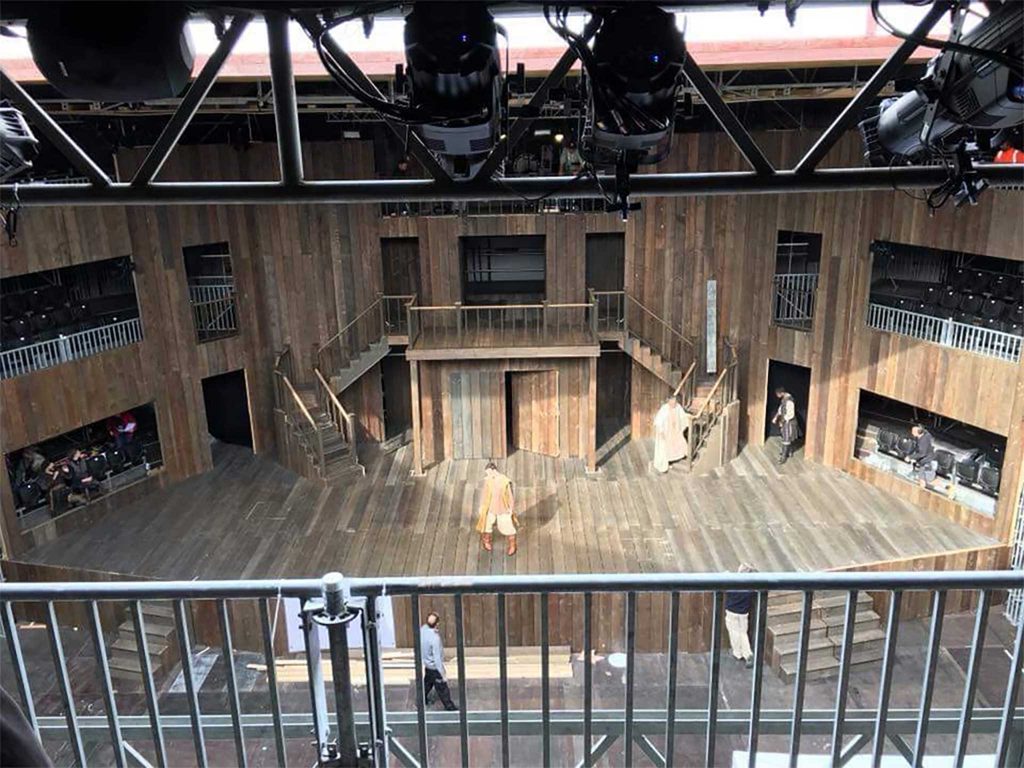 "The theatre utilises 1500 square metres of corrugated iron panels and timber elements, but the main supporting structure itself has been created using Layher's equipment including the company's Allround scaffolding and event seating systems," says Andy Nutter at Acorn Events. "The roof over the seating blocks, both upper and lower stage platforms, on-stage staircases and a beamed roof across the stage also feature Layher equipment with its ease of handling, choice of fixing positions and integration all key considerations."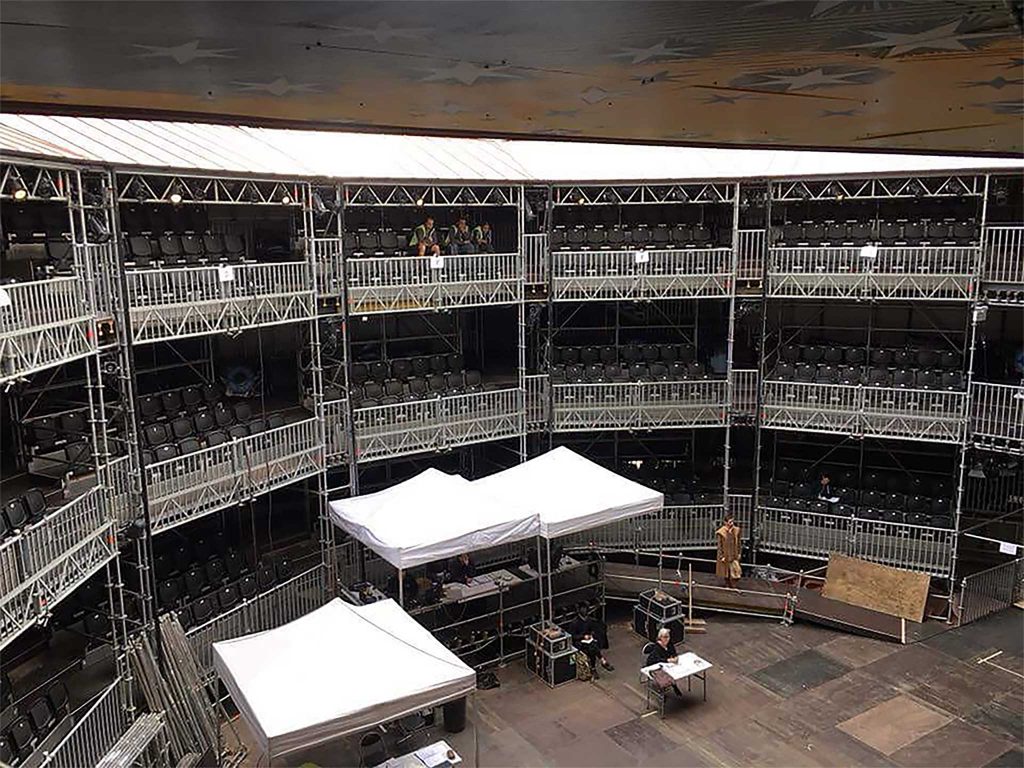 Built in less than three weeks on a car park in the centre of York, the Rose Theatre Project is part of a regional commitment to bringing exciting theatrical experiences to the north of England. Its thoroughly bespoke nature and the requirement to follow a very rigid, historical layout and dimensions are reflected in both Acorn Event's capabilities and the suitability of Layher equipment to meet the requirements of projects of all shapes and sizes.
"We are delighted to be part of such an important local project which creates a cultural legacy for our community while supporting local industry," adds Andy Nutter.  "We've worked closely with our client to design and engineer a unique and functional performance area which positions audience members within just 15 metres of the action, with the aim of presenting Shakespeare's plays in a similar environment to that which would have been enjoyed 400 years ago."
"It is a highly impressive blend of historical objectives and modern methods of construction, and everybody concerned should take a bow for their performance," concludes Sean Pike.